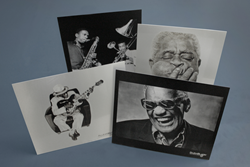 "Having products like AlumaMark and DuraBlack to offer customers opens doors to new creative spaces in the engraving industry. They're easy to use, look great and the support we receive from Horizons is second to none," said Kevin Souder of Bur-Lane.
Las Vegas, Nevada (PRWEB) March 12, 2014
Horizons Imaging Systems Group (ISG) recently attended ARA to increase promotional support to our AlumaMark and DuraBlack distributors. ARA is the leading International Awards and Recognition industry tradeshow. To support our distributors, Horizons Imaging Systems Group (ISG) did the following things:

Purchased product showcases to display samples of AlumaMark and DuraBlack and direct attendees to our exhibiting distributors' booths.
Passed out custom samples with the imagery used in the showcases for distributors to display in their booths.
Worked at our distributors' booths to field technical questions, pass out samples and help increase sales of AlumaMark and DuraBlack.
AlumaMark is the only laser markable material that produces photo-quality images on real metal without etching, engraving or adding chemicals. AlumaMark uses a thermal process by which the heat of the CO₂laser images the metal's surface, generating high detail images and photographic quality half-tones. Learn more at http://www.alumamark.com.
DuraBlack is CO₂laser markable aluminum for durable, on-demand marking for harsh operating environments. In side-by-side tests, DuraBlack outperforms black anodized aluminum and laser markable acrylic tape in select applications. DuraBlack is resistant to sunlight fading, abrasion, high-temperatures, corrosion and chemical exposure. Learn more at http://www.horizonsisg.com/durablack.html.
The Awards and Recognition Association (ARA) is a membership organization consisting of 4,000 companies worldwide, dedicated to increasing the professionalism of recognition specialists and advancing the awards and engraving industry. The purpose of ARA is to advance the capabilities and growth of businesses whose primary focus is the manufacture, distribution or sales of awards and recognition goods and services. Learn more at http://www.ara.org/.
Key AlumaMark & DuraBlack Distributors supported at ARA included: Bur-Lane Inc., Gravograph-New Hermes, Identification Plates, Johnson Plastics, Laser Bits, Marco Awards Group, Plastic Dress Up Company (PDU) and Trotec Canada. For a complete listing of our distributors, please visit http://www.horizonsisg.com/dealers.html.