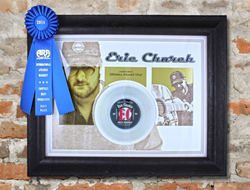 AlumaMark was chosen for its diversity. I like being able to achieve low lights and midtones. AlumaMark typically engraves black, but it's truly a remarkable product when bringing out other tones in the material. Said Jenn Postma of Awards Unlimited.
Las Vegas, NV (PRWEB) March 17, 2014
At this year's ARA International Awards Market, the Best Engravable Material Award was presented to Awards Unlimited located in Edmonton, Canada. The show attracts attendees from more than 30 countries. The event included a competition for retailers and suppliers to showcase their skills, new industry trends and process techniques in various categories judged by registered attendees.
Awards Unlimited's entry was inspired by a limited-edition vinyl record of country music artist, Eric Church. Incorporating AlumaMark to the piece created a photo-realistic 3D effect. AlumaMark's Satin Gold finish compliments his LP, Whiskey Infused, which has gold tones throughout the album cover. AlumaMark uses a thermal process by which the heat of the CO₂ laser images the metal's surface, generating detailed images and photographic quality halftones.
Awards Unlimited purchases AlumaMark from Trotec Canada (formally Engraver's Express). Trotec Canada carries the full line of AlumaMark finishes and has locations in British Columbia, Alberta, Ontario and Quebec.
About AlumaMark: AlumaMark is the only laser markable material that produces photo-quality images on real metal without etching, engraving or adding chemicals. AlumaMark uses a thermal process by which the heat of the CO₂ laser images the metal's surface, generating high detail images and photographic quality half-tones. Learn more at http://www.alumamark.com.
About Awards Unlimited: Awards Unlimited is Western and Northern Canada's leading recognition specialists and awards designers, helping teams, schools, and corporations to creatively express appreciation and celebrate achievement. Their mission is to provide personalized products and services in a manner that meets or exceeds our customers' expectations and to support our clients' goals by providing awards and recognition programs that celebrate excellence in a creative and meaningful way. Learn more at http://www.awardsunlimited.ca.