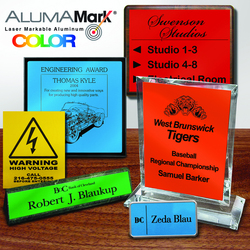 Cleveland, OH (PRWEB) February 16, 2011
An addition to the AlumaMark Laser Markable Aluminum product line has been announced by Horizons Incorporated. The new material is AlumaMark COLOR and will be supplied in five vibrant colors: red, yellow, orange, green and blue.
AlumaMark has always been known for its ability to yield a black mark on real aluminum when marked with any CO2 laser. So, too, the new AlumaMark COLOR. The new COLORs have marking characteristics similar to the AlumaMark satin silver. More information about AlumaMark COLOR can be found on the website: http://www.alumamark.com/color.
AlumaMark COLOR will allow users to expand their offerings to customers, particularly for Interior Signage, Awards, Memorabilia, Name Badges, Trophy and Plaque Plates, and Promotional Items. The lasered image will be a dense black and the COLOR vibrant, making the finished product a standout.
AlumaMark COLOR will be supplied in 0.020" thick 12"x20" sheets.
AlumaMark COLOR will be introduced at the ARA Show in February and will be available either from Horizons Incorporated directly or from one of our fine dealers (listed on our website).
About AlumaMark:
AlumaMark is real aluminum that is markable on any CO' laser. The technology allows you to create rich black graphics on aluminum without chemicals or fill. The result is a high-quality, high-value product that differentiates your products from the competition. AlumaMark is available in a variety of colors and finishes. Visit http://www.alumamark.com for more information.
About Horizons Incorporated:
Horizons Incorporated is the world leader in the manufacture of printable and markable aluminum sheet products. Our product line is known for quality, durability, and ease of use. With approximately 140 employees and corporate offices in Cleveland, Ohio, USA, we manufacture and market four core technologies: AlumaMark - Laser Markable Aluminum; AlumaJet - Ink Jet Printable Aluminum; Metalphoto - Photosensitive Anodized Aluminum; ID-MARK - Light Sensitive Aluminum & Polyester Developed with Water Alone. Visit http://www.horizonsisg.com for more information.
###